Unaccompanied minors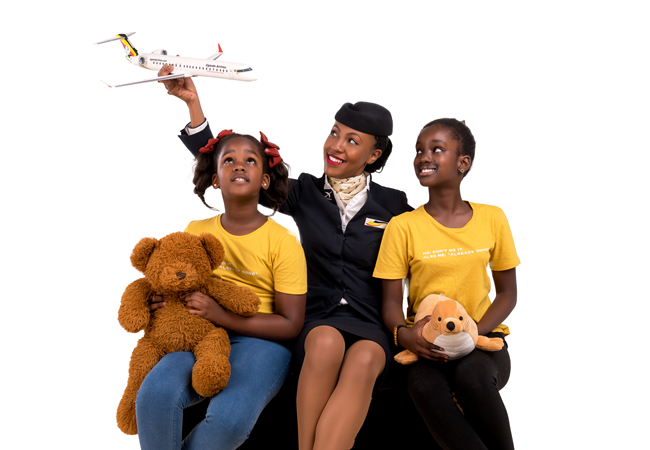 Our priority is to make sure your child has a safe and memorable trip from check-in through meeting their parent or guardian at their destination.
An unaccompanied minor (UM) is any passenger aged between 7 and below 17 years of age who is not traveling with an adult (18 years or older) on the same flight and in the same class of travel.
Children from 7 to 17 years of age can be accepted to travel as unaccompanied minors (UMNR) upon payment of UM charges and the provision of parent or guardian details provided for in the indemnity form.
Our unaccompanied minors service is also mandatory for children aged between 12-17 years old who are flying alone.
Note: An indemnity form at the point of ticket purchase shall be duly filled and signed by the parent or guardian to allow travel.
Use the form below to book unaccompanied minors
Unaccompanied minor handling fees
Unaccompanied minors will pay the full adult fare (Promotional fares not permitted) for the journey. Please check with Uganda Airlines office before making any purchase.
Terms and Conditions
Children ages 4 through 12 traveling without an accompanying passenger age 12–17 must travel as unaccompanied minors (UMs) on Uganda Airlines.
Uganda Airlines also offers an escort service for children traveling alone. A dedicated airline representative will accompany your child throughout the journey. Please contact us at least 48 hours prior to the flight departure to request this service for your child traveling alone.
Unaccompanied minors are monitored continuously throughout the trip. Only children with sufficient maturity to travel with limited adult supervision may travel as an unaccompanied minor on Uganda Airlines.
Unaccompanied minor charges are refundable. If you cancel your reservation and your unaccompanied minor does not travel, if your flight is canceled and you choose not to rebook, or if the child is joined by an accompanying passenger age 12 or older and is no longer an unaccompanied minor, contact the Uganda office to process your refund.
The purchaser represents that he or she is either the parent or guardian of the minor child or has authority to act on behalf of the parent or guardian.
All required information in this booking process must be completed and accurate in order to facilitate the transfer of the unaccompanied minor between designated parties.
Airlines reserves the right not to transport unaccompanied minors on flights that may be diverted or cancelled due to weather or other operational disruptions.
Proof of age in the form of a birth certificate or other form of valid identification for the child is required upon check-in at the ticket counter in order to travel as an unaccompanied minor
A parent or guardian must be present and show a valid government-issued photo ID to an airline representative when checking in or picking up an unaccompanied minor.
Unaccompanied minors can travel only on nonstop or same-plane service (which makes one or two stops but does not require a change of plane or flight number).
Uganda Airlines does not provide unaccompanied minor service to or from international destinations.
A parent or guardian must escort an unaccompanied minor to the departure gate 45 minutes before scheduled departure and must remain in the gate area until the flight is in the air.
Prior to departure, a designated airline representative will announce preboarding for unaccompanied minors. It is the responsibility of the drop-off parent or guardian to present the unaccompanied minor as directed in order to board the flight. We advise the parent or guardian to check in 3 hours prior to boarding.
Unaccompanied minors' passports will be kept with the airline while the service is provided by the carrier.
Once seated, a flight attendant will visually observe and/or communicate with an unaccompanied minor periodically as other duties allow, but unaccompanied minors are not monitored continuously throughout the flight.
Uganda Airlines personnel will not take unaccompanied minors out of the airport before or after their designated flight departs or arrives.
Uganda Airlines does not assume responsibility for an unaccompanied minor's actions. THE PURCHASER AGREES TO INDEMNIFY, HOLD HARMLESS, AND FULLY RELEASE UGANDA AIRLINES FOR ANY AND ALL INJURY OR DAMAGES TO PROPERTY OR PERSONS CAUSED BY OR INCURRED AS A RESULT OF AN UNACCOMPANIED MINOR'S ACTIONS, INCLUDING INJURIES TO THE UNACCOMPANIED MINOR CAUSED BY HIS OR HER OWN NEGLIGENCE.
Parents and guardians picking up an unaccompanied minor should be at the gate 45 minutes prior to scheduled arrival and present a valid government-issued photo ID to the designated airline representative to facilitate the transfer of the unaccompanied minor between the designated parties.
Uganda will not release an unaccompanied minor to anyone other than the designated parent or guardian. It is the parent's or guardian's responsibility to ensure changes of the designated pick-up parent or guardian are arranged with an airline representative at a Uganda Airlines ticket counter prior to the child's arrival.
Should the unaccompanied minor's travel be disrupted or should the person(s) designated fail to meet the unaccompanied minor upon arrival at the destination airport, Uganda Airlines is authorized to take whatever action is reasonable and necessary under the circumstances. The parent or guardian agrees to reimburse Uganda Airlines for its expenses incurred in taking such action.
If these terms and conditions are not met, Uganda Airlines reserves the right not to provide travel to the unaccompanied minor.